Underpinning innovation with big data and analytics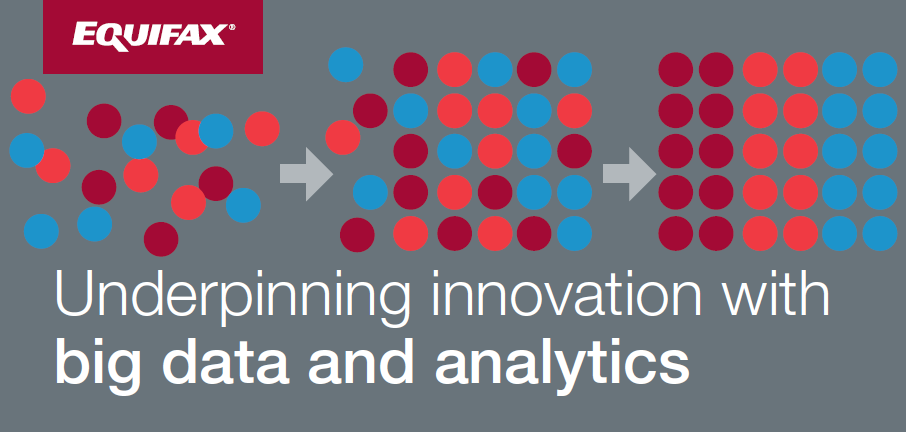 What is big data and why is it important?
Big data, the now common moniker used to describe very large data sets, is a term that has been around since the late 90's. It implies volume but has also come to be synonymous with higher-end data management, processing power and analytics. Our ability to produce such volumes of data has always preceded our ability to effectively make sense of it all. In every industry, as data is created, collected and stored the opportunity to create competitive advantage is there for the companies that embrace analytics. As technology improves, innovative organisations are able to make more productive use of data, but whilst analytics (and the use of advanced analytics in industry) is more widespread than ever, it's far from ubiquitous and levels of analytics maturity vary significantly between sectors and businesses.
"Big data and advanced analytics promise profound competitive advantages, yet only 4% of companies truly master the alchemy of people, tools, data and strategic focus needed." – Bain & Company.
A McKinsey report from 2011, which still resonates now, described big data as "a key basis of competition, underpinning new waves of productivity growth, innovation, and consumer surplus—as long as the right policies and enablers are in place." Finding the right enablers, as McKinsey described, is essential to unlocking the potential of big data. Since this report was published technology has moved on significantly, so how can companies today unlock this potential?
Size matters…
Statistically speaking, the bigger the sample size you include in your analysis, the more accurate and meaningful the outcome. If you're an analyst in a bank, for example, and the goal of your analysis is to find factors that influence credit card defaults, a bigger sample (i.e. more data) equates to more accurate correlations, which becomes financially important when this analysis is the basis for risk modelling and credit decisioning. With the right enablers – in this case, the right tools, the right platform and access to the right data – this bank could enhance and analyse their own customer data with data from third parties to form a more holistic and reliable view of their own customers' behaviour and lifestyle; in turn they can build a profile of 'the ideal customer' that will inform their future lending decisions and drive effective marketing campaigns.
Whether spotting basic trends or identifying more complex, non-linear relationships in data - potentially using AI based tools - the more data you have the more meaningful the insights and outcomes, resulting in the potential for better outcomes for consumers, the economy and society.
Big data and analytics potential
With relatively few companies truly embracing the potential of big data and analytics, improving capability and attitudes towards the benefits of big data should be an important objective, but it's not the ultimate goal. The goal should be to use analytics to facilitate continuous, marginal improvements in every operation from marketing to customer management.
The International Institute for Analytics, in a report entitled "Analytics maturity powers company performance, 2018" has looked at correlations between analytics maturity and business performance and the outcome was resoundingly positive: "Since analytics maturity is associated with superior company performance and shareholder value, companies should continue to invest in the development of analytics capabilities to remain competitive."
Enablers of analytics performance
In addition to highlighting the positive correlation between analytics maturity and business performance, the work by the International Institute for Analytics also refers to various stages of analytics maturity – from "not data-driven" to "analytical Nirvana" – signalling a roadmap to maturity (and the potential associated performance improvements) for those businesses that are relatively immature in their adoption of analytics. For companies looking at "enablers" of analytics capability, it's worth considering the following:
Capability: This is a combination of having 'the right tools for the job', including resource and expertise, and using them effectively to create optimum gains from advanced analytics. Not having the right in-house capability is no longer a barrier to analytics maturity, as in an age of cloud technology, ownership of capability does not necessarily equate to competitive advantage. Outsourcing the technology, data analysis and analytical skillset (often known as Analytics as a Service), is now a model that can rapidly advance a company's analytics maturity, taking analytics from an under-utilised supporting function to a key source of competitive advantage. It's a cost effective and flexible playing-field-leveller for those wanting to quickly catch up.
"Some executives are even concluding that while analytics may be a welcome addition to certain activities, the difficulties in scaling it up mean that, at best, it will be only a side line to the traditional businesses of financing, investments, and transactions and payments. In our view, that's short sighted." – McKinsey Global Institute
Accessibility: With the emphasis on technology and the supporting environments, accessibility refers to the ease of access to big data. Accessibility is an enabler of analytics maturity/capability because dealing with high volume, complex and potentially unstructured data are fundamental big data challenges. To give analysts quick, easy access to a data store designed to support this, is to be well on the way to unlocking the potential advantages of data and analytics.  
Attitude: Analytics is underpinned by technology, but by far the most critical ingredient for success is a cultural openness to change and therefore innovation. For analytics to be entrenched to the point it's a business-as-usual consideration requires leadership that places understanding data at the heart of decision making.    
"By establishing analytics as a true business discipline, banks can grasp the enormous potential." – McKinsey Global Institute
Analytics, innovation and creativity
Traditionally analytics has been considered by some organisations as a periphery activity rather than being embraced as a core discipline. Every operation within a business can, and should, be embracing data-driven approaches as a source of innovation and competitive advantage, but it's a long term driver of marginal gains and risk reduction, not a magic pill.
It's telling that modern tech and high-growth companies (such as Netflix, Spotify, Amazon etc.) commonly understand and embrace data and analytics, and in some cases have exploited it to achieve enviable and rapid growth, making data driven decision making not just a cultural and strategic imperative, but an everyday one too. What really separates these kinds of companies from more traditional ones is not necessarily the type of product or service they provide; it's their attitude to analytics and innovation. Companies and industries that are slow to embrace data, adopt new technology or modernise their thinking will be disrupted or overtaken by organisations that use data and analytics to develop a deep understanding of their customers and their market.
"FinTech and digital upstarts recognize the tremendous opportunity analytics bring and have benefited from the trust gap between banks and their customers. In fact, we believe one of the biggest reasons that FinTech companies have been so disruptive to banks is that they leverage an inherent consumer trust in technology with offers of convenience and innovation in a sector that has largely been starved of new models for decades." – KPMG
Businesses should also consider analytics as a creative activity and analysts as creators. Creativity after all is a process, not an event, and so an analytics environment is merely a tool to facilitate the creative process that drives innovation. Equifax Ignite, for example, provides an environment and the tools (the enablers you need to reach analytics maturity) to help analysts explore big data, create and test new analytical models, and ultimately innovate; supporting businesses as they act on insights from data, not on guesswork and assumptions. Something far more transformative and reliable than a "lightbulb moment".
To read more about Equifax's big data and analytics solutions, and how they can support your business, download the Equifax Ignite brochure, visit the webpage or contact one of our representatives using the links below.
Author: Mark Fish, Senior Insights Delivery Consultant, Europe, Equifax.
Email: mark.fish@equifax.com
LinkedIn: https://www.linkedin.com/in/mark-fish-92858a/
References:
Big data: The next frontier for Innovation, competition, and productivity, McKinsey Global Institute, June 2011.
Analytics Maturity Powers Company Performance, David Alles, International Institute for Analytics, February 2018.
Can analytics build trusted customer relationships in banking? Global Data Analytics, Trusted Analytics article series, KPMG, May 2016.
The value of Big Data: How Analytics Differentiates winners, Rasmus Wegener and Velu Sinha, Bain & Company, 2013.