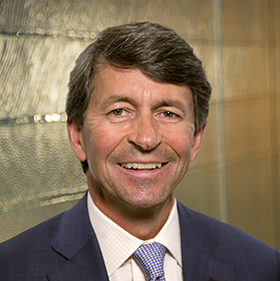 Mark Begor
CHIEF EXECUTIVE OFFICER
Mark Begor was named Chief Executive Officer of Equifax and a member of the Board of Directors in April 2018.
Bio >>

Dann Adams
President, Global Consumer Solutions
Dann Adams leads the Equifax Global Consumer Solutions business, which provides credit monitoring and identity management services and other direct-to-consumer solutions and services across the U.S., the UK and Canada.
Bio >>

Prasanna Dhoré
CHIEF DATA AND ANALYTICS OFFICER
Prasanna Dhoré serves as the Chief Data and Analytics Officer at Equifax guiding the company through its greatest technology and decision sciences transformation in 100 years.
Bio >>

Jamil Farshchi
Chief Information Security Officer
As the Chief Information Security Officer, Jamil Farshchi is responsible for ensuring the security of the company's digital assets as well as tasked with transforming the Equifax cybersecurity program into a world-class capability.
Bio >>

John Hartman
President, International
John Hartman leads the company's international operations, with responsibility for businesses in Latin America, Europe, Asia and Canada. He also oversees the ongoing expansion efforts into emerging markets.
Bio >>

John J. Kelley III
Corporate Vice President, Chief Legal Officer
J. Kelley joined Equifax as Chief Legal Officer and Corporate Vice President in 2013. He has responsibility for legal services, global sourcing, compliance, government and legislative relations, and corporate governance.
Bio >>

Rodolfo O. Ploder
President, Workforce Solutions
Rudy Ploder leads the company's Workforce Solutions business, which is a leading provider of human resource, compliance, analytics and verification services.
Bio >>

Coretha M. Rushing
Chief Human Resources Officer
Coretha Rushing serves as Chief Human Resources Officer. She has global responsibilities for the human resources center of excellence that includes community affairs, human resources operations and more.
Bio >>

Laura Wilbanks
Chief Marketing Officer
Laura Wilbanks is the Chief Marketing Officer for Equifax and leads all core global marketing functions including innovation, strategy, brand, communications, pricing, insights and solution marketing.
Bio >>

Patricio Remon
President, Europe
As managing director for Europe, UK and Ireland, Patricio has held a number of Equifax leadership roles, including General Manager of Peru and Ecuador and most recently spearheading initiatives in Spain and Portugal.

John Garside
Vice President – HR Europe and TDX
John provides HR leadership to the core business units and operating functions as well as translating business strategy/objectives into HR initiatives, priorities and tactical plans.

Neil Compton
Decision Strategy Director
Neil joined Equifax in 2001 and has a wealth of industry experience gained through working with many of our key clients and verticals. In his current role he is responsible for the consultancy teams supporting all sales verticals and the specialist teams supporting the business areas in which we operate, including commercial, marketing, fraud and ID and collections.

Johanna Edwards
Sales Director, Enterprise, SME and Retail
Johanna is responsible for several sales verticals including Finance, Automotive, Debt, Utilities, Government, Alliances, Retail and SME. She has responsibility for setting and executing vertical strategies for growth.

Jake Ranson
Chief Marketing Officer - Europe
Jake has been integral to the Equifax account management and business development functions for 11 years. In 2017 he took the position of CMO Europe, where his customer focus and industry experience is channeled into shaping brand, market engagement, product and pricing strategies across the region.

Steve Taylor
UK General Manager, Equifax Global Consumer Solutions
From a Senior Consultant in the Predictive Sciences team to becoming Product Strategy Director responsible for all Equifax UK business lines, Steve is responsible for alliances and Business Development.

Andy Bodea
Chief Global Operations Officer
Andy Bodea is the Chief Global Operations Officer of Equifax, where he has responsibility for strategic revenue growth initiatives, M&A integration, direct-to-consumer solution sales, account management, data and more.
Bio >>

Jeff Dodge
Senior Vice President, Investor Relations
Jeff Dodge is Senior Vice President of investor relations for Equifax and is responsible for managing the company's relationship with Wall Street analysts and investors.
Bio >>

John W. Gamble, Jr.
Corporate Vice President, Chief Financial Officer
John Gamble is the Chief Financial Officer of Equifax and is responsible for all financial functions including corporate finance, investor relations, accounting, audit, tax and treasury.
Bio >>

Julia Houston
Chief Transformation Officer
Julia Houston is the Chief Transformation Officer with responsibility for overseeing the company's response to the cybersecurity incident and coordinating its efforts to build a new future.
Bio >>

Joseph M. Loughran III
PRESIDENT, U.S. INFORMATION SOLUTIONS
Trey Loughran leads U.S. Information Solutions, which includes U.S.-based services that provide businesses with consumer & commercial information & insights related to risk management, identity & fraud, & marketing.
Bio >>

Mark Rohrwasser
Interim Chief Information Officer
Mark Rohrwasser is interim Chief Information Officer for Equifax. Rohrwasser joined Equifax in 2016 and has led Equifax's International IT operations since that time.
Bio >>

Steven Stripe
SENIOR VICE PRESIDENT, CORPORATE DEVELOPMENT
In 2015, Steven Stripe joined the Equifax senior leadership team as Senior Vice President of corporate development responsible for mergers and acquisitions.
Bio >>

Paul Birks
Chief Data and Analytics Officer
With more than 20 years experience across banking, retail, telecoms and mail order sectors, Paul brings to our clients unparalleled expertise across disciplines and familiarity with all available industry data sources.

Paul Moore
European Finance Director
Paul leads the finance and risk teams and is responsible for Europe strategy, forecast process, investment decisions, statutory reporting/US filing, and Sox compliance.

Phillip Simpson
General Counsel
With over 15 years in house commercial legal experience, Phillip has developed the Legal and Compliance functions to meet the business' increasing legal, regulatory and compliance requirements.

Janice Rudd
Operations Director
Janice has over 25 years' experience leading multi-disciplined Operations. She has been with Equifax for 19 years designing and implementing operational and service strategy focussed on our customers.

Simon Warrington
CIO Europe
Simon specialises in business transformation, strategy development, growth and value generation, and business and IT integration through both old and new technologies.
Mark L. Feidler
NON-EXECUTIVE CHAIRMAN, EQUIFAX INC.
FOUNDING PARTNER, MSOUTH EQUITY PARTNERS
Walter W. Driver, Jr.
Chairman, Southeast, Goldman, Sachs & Co.
Robert D. Marcus
Non-Executive Chairman, Ocelot Partners Limited
John A. McKinley
CEO, SaferAging, Inc. and Co-Founder, LaunchBox Digital
Mark B. Templeton
RETIRED PRESIDENT AND CEO, CITRIX SYSTEMS, INC.
Mark Begor
Chief Executive Officer, Equifax Inc.
G. Thomas Hough
Retired Americas Vice Chair of Ernst & Young LLP
Siri S. Marshall
Retired Senior Vice President, General Counsel and Secretary, General Mills, Inc.
Robert W. Selander
Former President and Chief Executive Officer, Mastercard Incorporated and Mastercard International
Robert D. Daleo
Retired Vice Chairman, Thomson Reuters
L. Phillip Humann
RETIRED EXECUTIVE CHAIRMAN, SUNTRUST BANKS, INC.
Scott A. McGregor
Former CEO, Broadcom Corporation
Elane B. Stock
Retired Group President of Kimberly-Clark International
Audit Committee
Robert D. Daleo, Chair
G. Thomas Hough
John A. McKinley
Mark B. Templeton
Governance Committee
Siri S. Marshall, Chair
Walter W. Driver, Jr.
Mark L. Feidler
Robert D. Marcus
Compensation, Human Resources & Management Succession Committee
Robert D. Marcus, Chair
Mark L. Feidler
L. Phillip Humann
Siri S. Marshall
Technology Committee
John A. McKinley, Chair
G. Thomas Hough
Scott A. McGregor
Elane B. Stock
Mark B. Templeton
Executive Committee
Mark L. Feidler, Chair *
Robert D. Daleo
Robert D. Marcus
Siri S. Marshall
John A. McKinley